Was Sheng's CNC Machined Parts Business Reaches Over NTD100 million Sales
2016/03/03
Fastener-World
Keeping Pace with Market Trends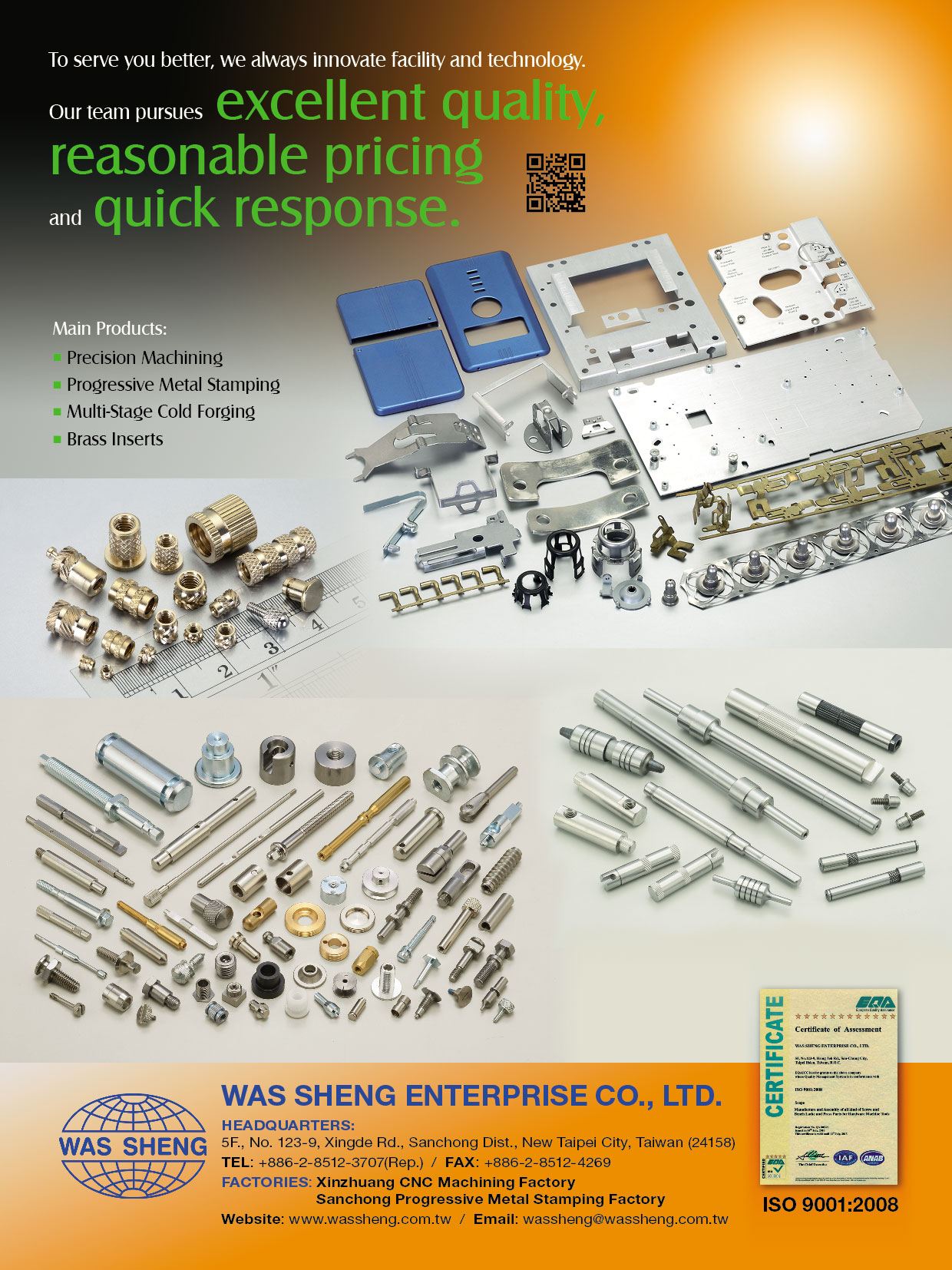 With more than 30 years of company history, Was Sheng Enterprise Co., Ltd. has reached an over NTD100 million sales record with the CNC machined parts business. It currently offers CNC machined parts (accounting for 60% of its total turnover), stamped parts & screws (18% for each category), and other industrial products (4%). Was Sheng has been regularly cooperating with customers in more than 20 countries in Europe, Asia, Africa, and Americas and its sales continue to grow steadily every year. The remarkable R&D capability and stable quality of Was Sheng have made it one of the professional CNC machined parts suppliers.
Superior R&D Capability for Any Product Range
ISO 9001:2008 certified Was Sheng supplies products in steel, alloy steel, stainless steel, brass, copper, phosphor bronze, aluminum, Ti-alloy, POM, and other materials to DIN/ASTM/JIS specifications. Was Sheng has strong manufacturing ability and develops products which are compliant with IFI/DIN/JIS standards or non-standard. It can offer RoHS compliant products as well. Was Sheng also has strong R&D capability and the products are widely used in automotive, motorcycles, electronics, household appliances, buildings, and machinery applications.
Accurate Market Deployment & Diverse Marketing Strategies
Taiwanese hardware industry is export-oriented. As the hardware industry is both technology and capital intensive and the international trade protectionism is prevalent in many regions (EU's antidumping measure against SS fasteners, for example), Taiwanese suppliers oftentimes feel difficulty in exporting products abroad. "There is no perfect organization in the world, even there is, it may become out-of-date as times goes by." President Jason Hsu deeply understands what this means and tries to figure out new strategies for the company at all times when the global trend changes, thus keeping his best competitive edge.

He added, "There are currently more supplies than demands in the global hardware market, which means the competition will be more drastic in the future. China has the highest demand for steel in the world. Considering the advantage of Taiwan (a neighboring country of China speaking the same language and writing in similar characters), Was Sheng will also try to get closer to market demands and pay much more attention to changes in government's policies in order to take the lead in the market." He also said, "Things in the market may change at any time; however, if we can offer quick and superior service and always think more for customers, we can finally survive the highly competitive market."
Our Advertisement
Press Release
2022 Tomb Sweeping Day Notice

We will close our company for Tomb Sweeping Day from Apr 2 to Apr 5, 2022. Returning to the office on Wednesday Apr 6. Thank you very much for your support and understanding.

Read More

2022 Holiday Notice of Labor Day.

We will close our company for Labor Day from May 1 to May 2, 2022. Normal business will resume on Tuseday May 3.

Read More

ISO 9001: 2015 Quality Management

We update our ISO 9001:2015 certificate at July 2018.

Read More