DIN 6926 Hexagon Flange Nylon Insert Lock Nuts
NU-09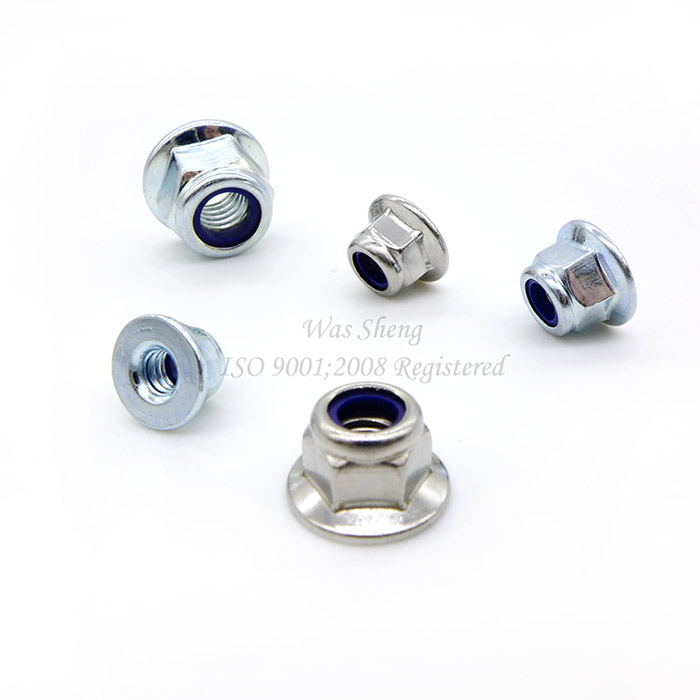 Hex flange nylon nuts combine both advantages of flange and nylon nuts, flange extends the original diameter of the nut and ensure the fastener stay tight, also can cover oversized holes and increase the load over a greater area. Nylon insert wraps around the threads and locks the nut in place unaffected by vibration.
Material
Steel: C1006-C1045
Stainless Steel: SUS304, SUS316
Brass: C2600, C2700, C2680
Copper: C1100
Phosphor Bronze: C5191
Aluminium: 1050, 5052, 6061
Manufacture Process
Cold forging is a process which a product is formed by wire and header. Such process is the most efficient and the least material usage. Cold forging is an ideal process for mass production. Other secondary reworks such like machining, drilling and slot cutting are available upon request.
Surface Finish
Heat Treatment.
Plating: Trivalent Blue Zinc, Trivalent Clear Zinc, Trivalent Black Zinc, Trivalent Yellow Zinc, Hot Dip Galvanize, Bright Nickel, Black Nickel, Electroless Nickel, Zinc-Nickel Alloy, Black Oxide, Phosphate, Tin, Chromium, Magnigard, Geomet, Passivate, Etc.
Packing
Bulk, plastic bags, plastic trays or bubble bags in export cartons or according to buyer's requests, then palletized.
Applications
Fastening mating components, commonly used in automotive, architecture, mechanics, home appliances and electronics industries.
Related Products

---

Technical Information

These are common type of surface treatments that we plating, if you need further information just ask us!

These are special type of surface treatments that we usually plating, if you need further information just ask us!
Press Release
2020 Holiday Notice of New Year's Day.

We will close our company for New Year's Day on Jan 1, 2020. Returning to the office on Thursday Jan 2. Thank you very much for your support and understanding.

Read More

2020 Holiday Notice of Lunar New Year Festival.

We will close our company for Lunar New Year Festival from Jan 23 to Jan 29, 2020. Returning to the office on Thursday Jan 30. Thank you very much for your support and understanding.

Read More

ISO 9001: 2015 Quality Management

We update our ISO 9001:2015 certificate at July 2018.

Read More