Bronze Plain Sleeve Bearing Bushing
BU-03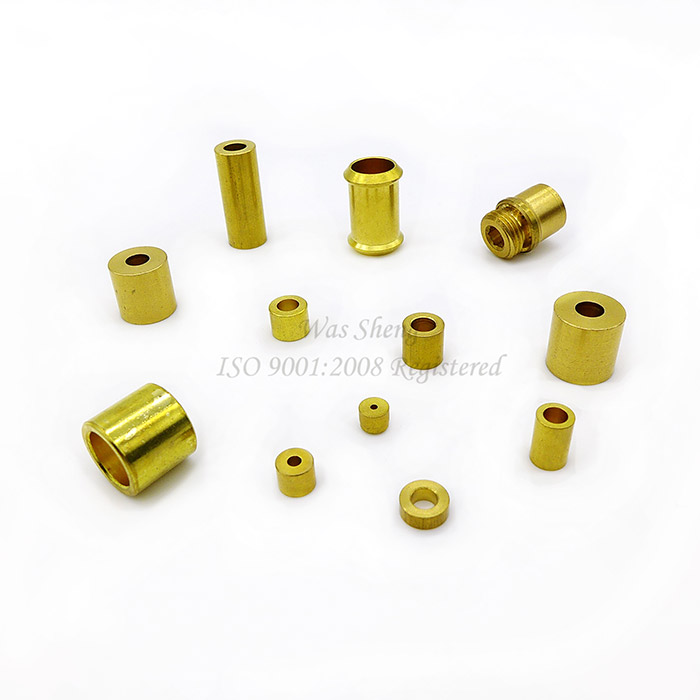 A bushing is a cylindrical component that used to reduce friction.
Material
Free Cutting Steel: 12L14, 1215
Mid Carbon Steel: 1045
Low Carbon Steel: 1015
Tool Steel: SUJ2
Free Cutting Mid Carbon Steel: 1144
Alloy Steel: SCM 440, SCM 435, SCM 415
Stainless Steel: SUS 303, SUS 304, SUS 316, SUS 416, SUS 420, SUS 430
Brass: C3601, C3602, C3603, C3604, PB-FREE BRASS
Aluminium: 2011, 2024, 6061, 6082
Manufacture Process
Cutting, drilling and milling from bar material.
Surface Finish
Heat Treatment: Bright Continuous Heat Treatment, Carbonization Heat Treatment, Nitriding Heat Treatment, Vaccum Heat Treatment.
Plating: Trivalent Zinc, Trivalent Yellow Zinc, Trivalent Black Zinc, Trivalent Clear Zinc, Nickel Plating, Electroless Nickel Plating, Black Nickel, Stain Nickel, Zinc-Nickel Alloy, Zinc-Iron Alloy, Zinc-Cobalt Alloy, Chrome Plating, Hard Chrome Plating, Phosphate Plating, Black Oxide, Copper Plating, Sliver Plating, Gold Plating, Anodizing Plating, Passivation Etc...
Packing
Applications
Automotor Industry, Building Industry, Machine Industry, Electronics Industry, Home Appliance Industry Etc...
Related Products

---

Technical Information

These are common type of surface treatments that we plating, if you need further information just ask us!

These are special type of surface treatments that we usually plating, if you need further information just ask us!
Press Release
2020 Holiday Notice of Dragon Boat Festival.

We will close our company for Dragon Boat Festival from Jun 25 to Jun 28, 2020. Returning to the office on Monday Jun 29. Thank you very much for your support and understanding.

Read More

2020 Holiday Notice of Mid-Autumn Festival.

We will close our company for Mid-Autumn Festival from Oct 1 to Oct 4, 2020. Returning to the office on Monday Oct 5. Thank you very much for your support and understanding.

Read More

ISO 9001: 2015 Quality Management

We update our ISO 9001:2015 certificate at July 2018.

Read More